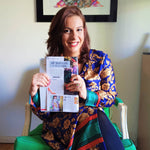 Under the theme "Color and Art", JUUX takes its place within this magical and powerful world, which can make a radical shift in our mood and therefore our world.
I'm ecstatic to be represented in one of the most prestigious fashion, beauty, and lifestyle magazines in Portugal.
I want to thank all the LuxWOMAN magazine team who believe in my work and supported me unconditionally.
Let's color our world together!