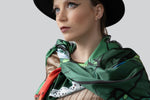 The "Ode To Freedom II" Collection focuses on informing/raising awareness and generating action/impact on the fragility of Fauna and Flora on our planet.
Through the creation of several compositions centered on some animals and flowers, I try to reinforce their importance and their situation: extinct, in critical danger, or in danger of extinction.
What I also intend is to emphasize the need to rethink our role as unique individuals in a plural and multifaceted society to generate other habits and actions, catalyzing attitudes and behaviors for the conservation of the biodiversity of our planet's fauna and flora.
Conserving nature and its benefits is imperative, it is not a luxury.
As an artist/designer and entrepreneur, I support this cause, trying to change my habits and actions effectively and permanently.
Therefore, this collection acts as a dissemination tool for the environmental support manifesto, utilizing my role and visibility with JUUX to support this urgent cause.