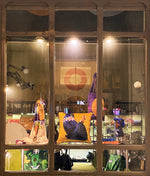 It is truly a great honor to see JUUX represented in this store of reference among renowned national and international artists and designers. 

The University of Porto Store was created to expand the profile of the University of Porto, consolidating its relations with the general population and reinforcing the feeling of belonging to the academic world of the largest University in the country.
Being a native of Porto and a former student of the Faculty of Fine Arts of the University of Porto, it is a rewarding and absolute honor for me.
If you have the chance, visit the University of Porto Store and the Rectory of the University of Porto, they are located in one of the most beautiful historic buildings in the city center of Porto.
Let JUUX unframe your uniqueness. 

You can also visit the store and buy online at www.loja.up.pt